What is the role of the VIVESCIA Cooperative?
The VIVESCIA Cooperative is, by definition, a collective enterprise that serves cooperative farmers. We are committed to giving all cooperative farmers the tools to make their farms both financially and environmentally sustainable.  We believe our role extends far beyond where we live and work!
Supporting and promoting local regions… because the VIVESCIA Cooperative is an extension of the region's farms. 
As a cooperative Group, we have a duty to bolster the local economy. 
The main way we do this is, of course, our investment in production facilities, improving our own performance and that of all cooperative farmers, innovating, expanding, and creating new jobs. 
But this support takes many other forms: sharing our expertise, actively participating in the region's major events (agricultural fairs and cultural events), community-focused initiatives, support for entrepreneurs, job training and actions to improve employability, and helping young people enter the job market.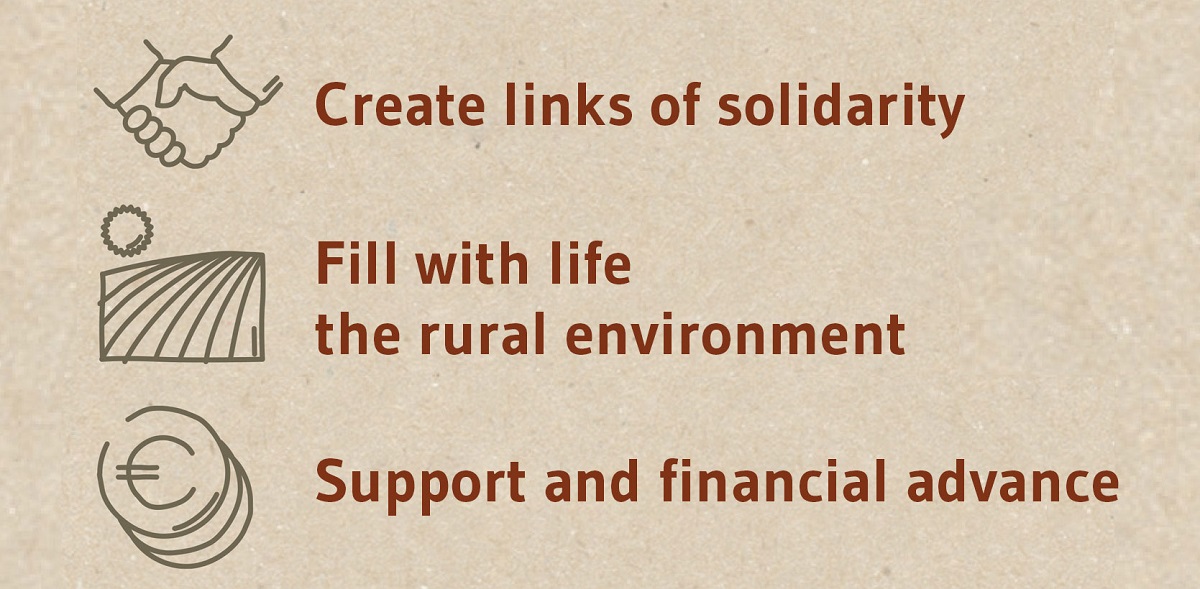 The VIVESCIA Cooperative in action…
VIVESCIA & the Signy-l'Abbaye mill: for high-quality wheat/flour/bread that is 100% locally-sourced.
Signy-l'Abbaye and the VIVESCIA Cooperative call the same region home. It is therefore no surprise that their paths crossed and they decided to work together. Theirs is a partnership of excellence whose aim is to better serve all stakeholders by offering the finest products for local consumers … and meets the expectations of consumers in our territories!
Solidarity at home and further afield 
Solidarity is the essence of the cooperative spirit and it takes many forms. We have been working for years to help our neighbours in many different ways, including helping young farmers get off the ground with associations and NGOs.  
In 2022, VIVESCIA Cooperative Group signed a three-year partnership with the French Federation of Food Banks. The aim: to cover its annual need for Francine flour and fight food insecurity in the regions in which it operates.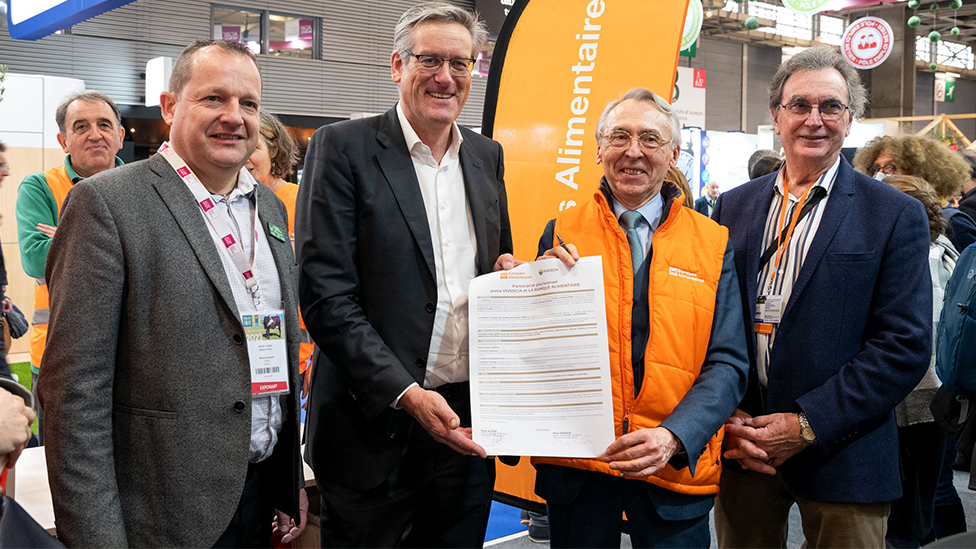 Signature of the partnership agreement at the Paris Agricultural Show with the President of VIVESCIA, Christoph Büren, and the President of the French Federation of Food Banks, Claude Baland.
Amplifying farmer's voices so that we can be heard far and wide !
Increasingly at the heart of current affairs, agriculture remains poorly understood. Ans yet, it lies at the crossroads of challenges related to food insecurity, biodiversity, climate, healthcare, energy, and land development. And yet, it is a relatively unknown topic. Farmers are the best ambassadors for their own work. Many people are unaware of farmers' devotion to the Earth, and the soil which is their most precious asset. We belong to our member-farmers, and we regularly speak up in defence of farming on their behalf to promote a better understanding of farming in our home regions and to explain the beneficial practices used by VIVESCIA Cooperative farmers. 
Our aim is to bring a broader understanding to public debates, overcome misconceptions, and to reconcile the general public with the farming world.

The VIVESCIA Cooperative in action…
Every year, VIVESCIA is proud to attend the Châlons-en-Champagne agricultural fair and use it as a platform to showcase the industry .
That's where we share our vision of the future of agriculture, we explain the different kinds of jobs available in agriculture, and we host and contribute to debates on topical issues. Between educational panels, meetings with experts, and fun activities, the VIVESCIA Village is the perfect place for visitors to better understand the sector's major challenges and the Group's solutions for solving them. The VIVESCIA Cooperative, its subsidiaries, and VIVESCIA Industries' businesses also meet with cooperative farmers, major players in the food industry, and local and national elected officials.
Live from VIVESCIA Village: take a closer look here
Foire de Châlons 2021 : best of the VIVESCIA Village
1 day at the Foire de Châlons - Friday, September 3 - Inauguration of the VIVESCIA Village
1 day at the Foire de Châlons - Saturday, September 4
1 day at the Foire de Châlons - Sunday, Sempteber 5
1 day at the Foire de Châlons - Monday, September 6
1 day at the Foire de Châlons - Tuesday, September 7
1 day at the Foire de Châlons - Wednesday, September 8
1 day at the Foire de Châlons - Thursday, September 9
1 day at the Foire de Châlons - Friday, September 10
1day at the Foire de Châlons - Saturday, September 11
Meet our VIVESCIA cooperative farmers 
The harvest brings out the best in us! Each year, we take a deep dive into the harvest to interview dedicated VIVESCIA Cooperative farmers who are passionate about their work and eager to tell us more about their daily routine. 
Discover our films on the 2021 harvest:
At the heart of the wheat harvest with Yves, farmer-cooperator in the Marne
Behind the scenes of the harvest with Régis, pole manager
At the heart of the wheat harvest with Franck, farmer-cooperator in the Marne
At the heart of the harvest with Nicolas, farmer-cooperator in the Meuse
At the heart of the escourgeon harvest with Cyriaque, farmer-cooperator in the Ardennes
At the heart of the harvest with Jean-Michel, farmer-cooperator in Aube
Pooling resources and adding value
These are the core concepts of our cooperative model and our farming businesses! We pool our resources and organise for collective purchasing, and we trade grain from all types of farming. What is our main asset? Being able to connect farmers to the food industry, their customers, and consumers through VIVESCIA Industries' processing businesses, …and being able to develop specialist supply chains that add value to their crops!

The VIVESCIA Cooperative in action…
The harvest: the art of coordinating many moving parts! 
Organising transport, grain reception, and the availability of collection points while factoring in human safety, quality standards, equipment maintenance, and the relevant human resources is a true balancing act. And when harvest time rolls around, it's all hands on deck!
Adding value to our cooperative farmers' crops 
It starts in their fields, where they receive advice from our experts, and continues all the way to the silos. At harvest time, as soon as the grain is received, our teams clean, sort, and "allot" it (i.e. make homogeneous batches that are compliant with our food-industry customers' specifications and supply agreements). Next, the grain needs to be dried, stored, and monitored 24/7 before it is shipped to our customers. To make this process faster and more efficient, the Cooperative is modernising its distribution silos, promoting on-farm storage, and is developing new digital tools to identify different grain varieties and their varietal purity in just seconds.
Specialised value chains
In our quest to add greater value, we are developing specific sourcing agreements with the Group's processing businesses and their customers.… There is nothing like meeting each other and talking in-person to better understand our respective needs and constraints! Our Cooperative regularly arranges trips to farms and fields with representatives of food corporations and cooperative farmers who have signed agreements on sustainable farming practices.
Our "Grain Route" programme is a perfect example of our Group's strength: connecting upstream farming and the downstream processing industries. Organised by our Cooperative and Grands Moulins de Paris, all our stakeholders from the wheat/flour/bread sector are welcome to go on these visits, including cooperative farmers, artisan bakers, and major food manufacturers.  These trips are an opportunity to learn about the various complex phases of the farming and milling processes, from field to fork, that allow us to obtain flour that meets the exacting standards of artisan and industrial bakeries...
The Cooperative's experts are on the ground
We are there every day, supporting and advising cooperative farmers based on their needs and plans for sustainable, responsible growing practices : soil conservation agriculture, low-carbon agriculture, precision agriculture, environmental (HVE) certification, and use of natural fertilisers and pesticides.
Their mission? To use every resource at their disposal to improve their economic and environmental results at every stage of  production so that cooperative farmers can maximise the returns on their crops.
We believe that old-fashioned "common sense" is irreplaceable.  And it is perfectly compatible with agriculture 4.0. Moreover, we believe this combination can make farming both more productive and more environmentally friendly. Our priority? Agronomic innovation to strengthen crop resilience to climate change, whatever the growing practices used by cooperative farmers.

The VIVESCIA Cooperative in action…
At VIVESCIA, every form of agriculture has its rightful place!
Our experts support cooperative farmers in:
HVE (high environmental value) certification through the HVE club
Regenerative Agriculture  
Organic Farming
The CRC label was created in 1989. Its aim is to provide 100% French grain grown in a sustainable manner using good farming practices
Agronomics: spearheading resilience to climatic hazards. 
Genetics, biological pest control products, soil conservation agriculture, low-carbon agriculture, precision agriculture, new technologies, and robotics. There are countless innovative and sustainable agronomic solutions available to all farmers. 
A conversation with Savine Oustrain, VIVESCIA Agriculture's Director of Research and Innovation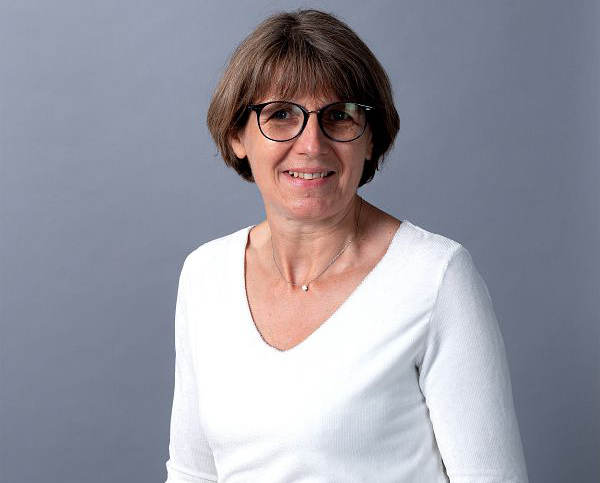 Decryption
A conversation with Savine Oustrain, VIVESCIA Agriculture's Director of Research and Innovation
Seeds: everything starts with a seed, but not just any seed…
At first glance, every seed looks the same. And yet, there is an entire world of different varieties of wheat, barley, rapeseed, and peas. And each variety is unique!
We list them based on agronomic and technical criteria depending on the soil, the cooperative farmer's goals, and the needs of customers, who may be millers, biscuit-makers, maltsters, starch producers, etc. We work with breeders to source and refine the selection of seeds to provide cooperative farmers with the very best. And some of our cooperative farmers are in charge of producing them. Finally, because seeds are a precious commodity, we have set up a Seed Exchange which is compatible with all devices.
Agronomics: partnerships to go further, faster.
We work in partnership with our processing subsidiaries as well as start-ups, universities, engineering schools, and research institutes on several major themes: :
Low-carbon agriculture
Soil health
Biodiversity
Developing plant-based protein
The precision agriculture revolution !
From satellites to drones and embedded sensors, technology for assessing the heterogeneity of plots and crop needs has advanced at light speed, making it easier to tweak input use. Precision agriculture is one method for eliminating intra-plot heterogeneity.