From wheat to bread: our milling business
Grands Moulins de Paris has been keeping a watchful eye over its grain for more than 100 years. Our ambition: To be the partner in our customers' success. Recognised for its expertise, product quality, and brands (Francine, Campaillette, and Copaline), Grands Moulins de Paris is now a key play on the milling market.
This requires a dash of audacity, a hint of creativity, and a strong commitment to making simple and healthy products while reducing our environmental footprint. In this respect, our direct connection to VIVESCIA's cooperative farmers is a major asset…
What is Grands Moulins de Paris's business?
Grands Moulins de Paris's business follows the grain route
You can't get good bread without great wheat! Thanks to our ties with VIVESCIA Cooperative, we can select the best wheat for making high quality flour and baking mixes. Only French wheat is used in our seven regional mills, the majority of which is sourced from within a radius of 125 km.  
Our film for the 100th anniversary of the Grands Moulins de Paris
households Francine buyers

French miller, one of the European leaders in Bakery-Viennoiserie-Pastry

artisan bakers have joined the Campaillette and Copaline brands
"
Although the baguette contains very few ingredients, it's how these raw materials are selected and expertly combined by passionate men and women that makes it such an incredible product. We are proud of being part of this human chain
"
Pierre Garcia
Managing Director of Grands Moulins de Paris
Flour production: Our expertise is based on 100 years of milling excellence 
More committed than ever to sustainable flour
Soil conservation farming, CRC®, organic farming, Label Rouge certification, all of these quality labels have specific properties. The challenge is to reconcile the expectations of consumers who are looking for authentic, natural products, and who are attentive to products' origin, with the expectations of our customers, who are looking for simple, high-quality flour that enables them to showcase their expertise. 
Just right! Healthy, delicious and simple products, for everyone 
To satisfy everyone's tastes and adapt to current consumption trends, our R&D teams are constantly developing new recipes. Their leitmotif is healthy, sustainable and equitable food. Our "À Table" programme (which stands for "AlimenTAtion responsaBLE" – responsible food) covers all our initiatives in this area. We develop our recipes very deliberately so that they can be enjoyed as part of a balanced diet. For example, since 2018, we only use natural colours and flavourings in our baking mixes. And our traditional flour only contains wheat-based ingredients.  
The Manifesto of the Grands Moulins de Paris
Our strong, vibrant brands showcase our know-how
And because all our customers are individuals, we have a range of brands and solutions to meet their different needs. If you want to learn more about Francine, Campaillette, or Copaline, click on the links below.
Our world-renowned bakery and patisserie school 
Training artisan bakers 
The Paris Bakery and Patisserie School, founded by Grands Moulins de Paris, has been helping us pass on our expertise to the next generation of bakers in France and beyond our borders since 1929. Every year, we help 250 apprentices and 100 adults looking to change careers acquire a vocational bakery certificate. Our students' exam success rate is close to 100%! With a decidedly international focus, we have also established partnerships with Colombia University and several Japanese schools, with 140 of their students coming to study in France every year.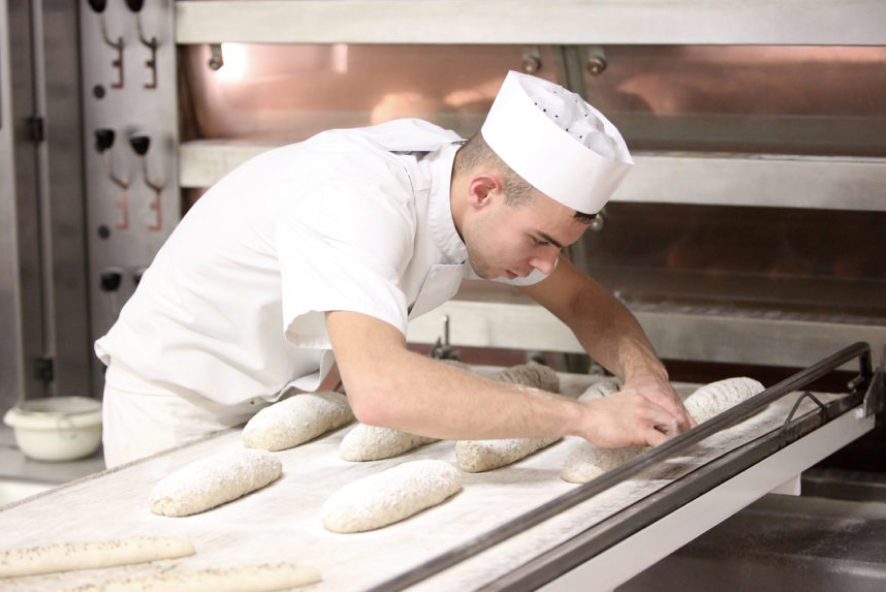 student at the Paris Bakery and Pastry School (2019)
And providing support for their entrepreneurial projects 
Being an artisan baker cannot be improvised: you need to be at once a good salesperson, a good manager, a good baker, a good businessperson… and you need a vision. Grands Moulins de Paris offers relevant solutions and tools that meets the diverse needs of artisan bakers who are opening their first bakery (whether that be by acquiring an existing business or starting their own).